Grey
Who Is Grey's Anatomy Star Jessica Capshaw's Husband, Christopher Gavigan?
As half of the fan-favorite couple Calzona on "Grey's Anatomy," Jessica Capshaw got to play an instrumental role in increasing LGBTQ+ representation on network television. But in real life, she's been married to her husband, Christopher Gavigan, since 2004. When Capshaw's "Grey's" days came to an end in 2018, Gavigan shared a sweet tribute to his wife on Instagram. "You have played Arizona with a fierceness of heart and with a commitment to your values — you are not only on the right side of history, you have helped opened doors all over the world," it read in part.
Championing one another is an overarching theme in Capshaw and Gavigan's marriage. During an Instagram Live, Capshaw praised her husband's drive and ambition, saying he always strives for perfection and relentlessly pursues his goals. She finds this quality inspirational. "There's a deep part of our connection based in learning from each other and learning from that lesson," she said.
Through her husband, Capshaw has also learned a lot about health and wellness. Gavigan obtained a B.A. in Environmental Sciences from UC Santa Barbara and became an advocate for limiting children's exposure to environmental toxins. In addition to serving as the CEO and executive director of a nonprofit dedicated to this cause, Healthy Child Healthy World, Gavigan has written a book about the topic. This is how he became business partners with another famous Jessica.
Christopher Gavigan's connection to another big star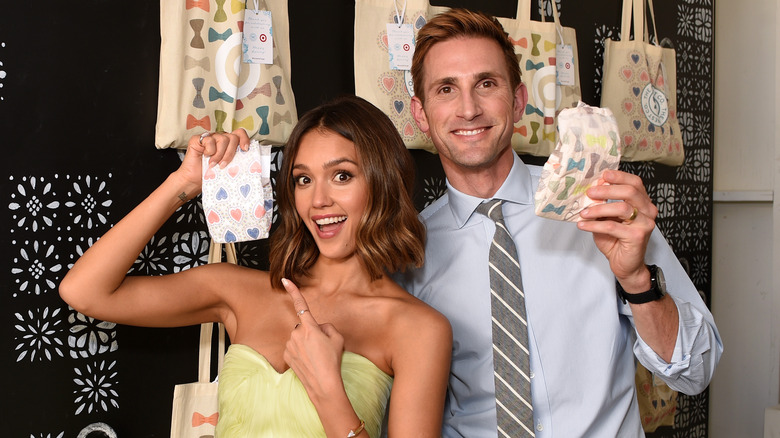 When Jessica Alba attended the launch party for Christopher Gavigan's book "Healthy Child, Healthy World," the "Sin City" star was there because she was pregnant and desperately wanted his advice about choosing a safe, non-toxic laundry detergent to use on her unborn baby's clothing. She must have liked his recommendation because Gavigan told Mixergy that Alba begged him to help her launch a wellness brand that offers consumers safer alternatives for products that babies are regularly exposed to. And thus, The Honest Company was born.
Since co-founding the company in 2011, Gavigan has ventured out into other spheres of the wellness industry, launching a line of CBD products called Prima in 2019. Jessica Capshaw became her hubby's willing lab rat and tested some of the products, including a daily supplement. In an Instagram Live with Gavigan, she said that it was helping her feel less anxious. The husband and wife also agreed that a topical cream called Night Magic was a winner. "It's like liquid gold for my face," said Gavigan. "Yeah, I see you every night. It's definitely like liquid gold; it's like a shining sun orb coming out of the bathroom," Capshaw quipped.
Because of the industry he works in, Gavigan is often asked about his wellness routine. He told The Unwinder, "Five out of seven days a week I only eat one meal a day (OMAD), which is dinner." He's also vegan, avoids alcohol, and does yoga.
Christopher Gavigan is a father of four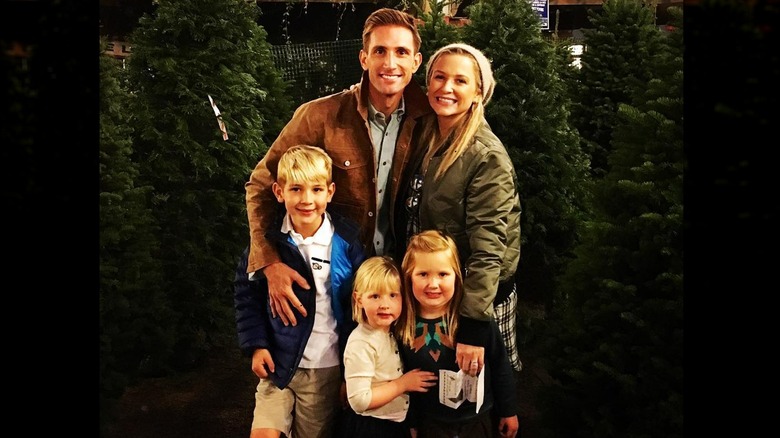 Christopher Gavigan and Jessica Capshaw have four children: a son named Luke and daughters Eve, Poppy, and Josephine. Gavigan marveled over his children's resilience during the early days of the pandemic, telling Natural Habitat, "I'm continually impressed by them. They're just good humans that I'm incredibly proud of, that are just trying their best, too."
It was during that trying time when Gavigan and Capshaw discussed the idea of making a big cross-country move from California to New York State. The parents thought going all "Green Acres" on their kids would be a good learning experience for them, so they are now living on a farm out in the country. "They've got to shovel the snow … They've got to take care of the animals, and they've got to help me with my garden work and lug rocks," Gavigan said on "Make Yourself at Home." But for the wellness mogul, the location of his children's labor was more important than the hard work itself. "Kids connecting with nature, that's true medicine," he said.
While Gavigan might be a successful entrepreneur who cares deeply about the work he's doing, his role as a dad is far more rewarding. Of how he feels about fatherhood, he told LuxEcoLiving, "It's a rich, meaningful, incredibly special opportunity — and I'm going to do everything in my power to make it incredibly fun, exciting, and joyful for my children and family."