Kate Middleton
Kate Middleton and Prince Louis' Matching Movements Spotted by Fans
The Princess of Wales and Prince Louis have become the subject of a new viral video on social media site TikTok as fans have spotted their matching movements during high-profile events.
Louis is the youngest child of Kate and Prince William and was born in London on April 23, 2018.
The little prince has become a fan favorite at royal events, including Buckingham Palace balcony appearances, where his cheeky facial expressions have been quickly shared on social media and in the mainstream press.
One of Louis's most commented-on public appearances was made in 2022, when the 4-year-old prince attended the Platinum Jubilee pageant celebrating his great-grandmother, Queen Elizabeth II's, 70th year on the throne.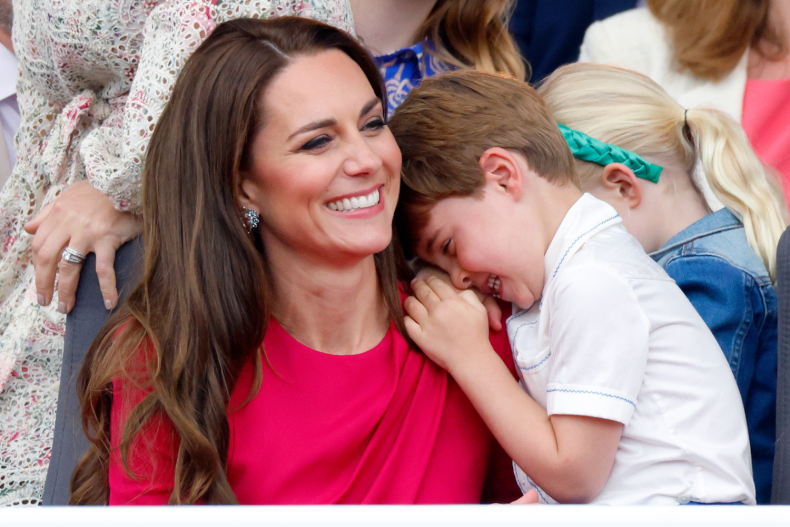 The Princess of Wales (when Duchess of Cambridge) and Prince Louis photographed during the Platinum Jubilee pageant in London, June 5, 2022. Footage of the royal mother and son's matching movements has gone viral on social media
The royal's restless behavior sparked a parenting debate on X (formerly known as Twitter) after he was seen shushing his mother, while his endearing moments with family members quickly went viral across social media platforms.
Uploaded to TikTok by user teamwalesfamily on September 8, footage of Louis throwing his head back in mock exhaustion has been compared to footage of Kate doing the same gesture back in 2010 during an outtake from her engagement interview with William.
Captioned "The Mother vs. Her Son," the video has been viewed over 450,000 times on the platform so far and received in excess of 40,000 likes and numerous comments, many of which have praised the royals.
"Those gorgeous Middleton genes," wrote one TikTok user.
"I love this," wrote another, with a further comment reading: "Fun times 😂."
Kate's footage was captured at Clarence House on November 16, 2011, the day that they officially announced their engagement after dating for nine years.
The couple sat down with British broadcaster Tom Bradby in what is to date their only in-depth joint television interview.
During their discussion, the couple referenced milestones in their relationship so far, including addressing the persistent rumor that Kate had posters of William on her bedroom wall growing up.
"He wishes! No," Kate said. "No, I had the Levis guy on my wall—not a picture of William, sorry."
Over the past 12 months, William, Kate and their three children—Prince George (born 2013), Princess Charlotte (born 2015) and Louis—have seen their public appearances increase, with the death of Queen Elizabeth II being a driving cause for this change.
In one of his first acts as monarch, King Charles III made William and Kate the new Prince and Princess of Wales. These are the most senior titles held by members of the royal family apart from the king and queen themselves.
With their new roles came added responsibilities, including an expectation to become closely involved with projects and causes in and around Wales.
In addition to their usual round of public appearances, such as Trooping the Colour, the Wales children have also attended high-profile events such as their mother's Christmas community carol concert at Westminster Abbey and their grandfather's coronation which took place in May.