Kate Middleton
How Prince Harry Went Head-to-Head With William and Kate in Europe
Crowds cheered Prince Harry's name, while Prince William and Kate Middleton opened up about their children and the princess' very daring hobby during four days of royal appearances.
The Duke of Sussex made a rare return to Britain on September 7 before receiving a standing ovation at his Invictus Games tournament for wounded veterans in Germany on September 9.
Harry competed for the limelight in Europe with Prince William and Kate Middleton, who made a sporting trip to France after recording a revealing new podcast.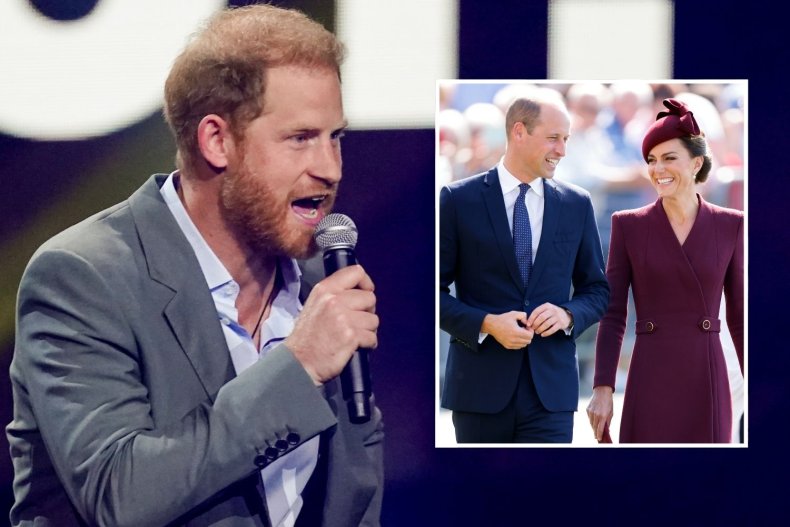 Main picture: Prince Harry gives a speech at the Invictus Games 2023 opening ceremony, at the Merkur Spiel-Arena, in Dusseldorf, Germany, on September 9, 2023. Inset right: Prince William and Kate Middleton mark the one-year anniversary of Queen Elizabeth II's death at St Davids Cathedral, in Wales, on September 8, 2023. The royals have been put head to head in the public eye.
Prince Harry's Trip to Britain
Harry flew into Britain for the WellChild Awards, on September 7, where he paid tribute to Queen Elizabeth II, the day before the one-year anniversary of her death.
The prince said: "As you know, I was unable to attend the awards last year as my grandmother passed away.
"As you also probably know, she would have been the first person to insist that I still come to be with you all instead of going to her," Harry added, "and that's precisely why I know exactly one year on that she is looking down on all of us tonight, happy we're together, continuing to spotlight such an incredible community."
The following day, Harry was seen visiting St. George's Chapel, Windsor in Berkshire, England. It is Elizabeth's final resting place and was also Harry and Meghan Markle's wedding venue.
However, Harry is not thought to have made the trip up to see King Charles III, who marked the day privately in Scotland. Nor did he see Prince William and Kate Middleton, who visited St Davids Cathedral, in Pembrokeshire, Wales, on September 8.
Kate told a well-wisher about Elizabeth: "We all have wonderful memories of her. We have to hold onto them, cherish them."
Prince Harry at the Invictus Games
Harry's biggest event of the week, and potentially of the second half of 2023, was the Invictus Games. The veterans' sports event began in Dusseldorf, Germany, on September 9.
Harry spoke of the importance of teamwork during his speech at the opening ceremony and joked there would be rivalry in the Sussex household as Meghan was supporting the Nigerian team. The duchess said in her Archetypes podcast that she discovered she is 43 percent Nigerian after genealogical testing.
Harry told the Invictus crowd: "Now I'm not saying we play favourites in our home… but since my wife discovered that she is of Nigerian descent, it's likely to get a little bit more competitive this year."
Prince William, Kate Middleton and the Rugby World Cup
On the same weekend Invictus began, the Prince and Princess of Wales traveled to France for the Rugby World Cup. It came less than a month after William missed the final of the FIFA Women's World Cup, in which England lost to Spain in Sydney, Australia.
Had England won, it would have been the country's first soccer World Cup trophy since the men's team won in 1966. William, as president of the FA, English football's governing body, was under pressure to attend the women's final.
Despite missing out on the women's soccer team in Australia, William watched Wales beat Fiji at Nouveau Stade de Bordeaux, in southwestern France, in the group stages of the men's Rugby World Cup on September 10, 2023. He attended in his capacity as patron of the Welsh Rugby Union.
Kate also watched a Rugby World Cup game as England beat Argentina at Orange Vélodrome in Marseille, southern France, on September 9, 2023.
On the same day, a podcast dropped featuring William, Kate and Princess Anne. The Good, the Bad and the Rugby is hosted by Mike Tindall, husband of William and Harry's cousin Zara Tindall, who is Anne's daughter.
On the show, Prince William said he is working on teaching his children the importance of being a good loser, while Kate revealed a passion for cold-water swimming, at night time.
William said: "I think people don't know how to lose well. Talking about our children in particular, I want to make sure they understand that.
"It's really important from a young age to understand how to lose and why we lose and then to grow from it through that process," the prince added.
Kate said: "I really, genuinely love all sports. Personally, I love swimming wherever I can. Cold swimming, the colder, the better.
"I absolutely love it. Slightly to the point where William's [saying], 'You're crazy' and it's dark and it's raining. I will go and seek out cold water. I love it," the princess added.