Emmerdale
Emmerdale spoilers: Sam Dingle HAUNTED by Lydia's past
Airs Friday 1st September 2023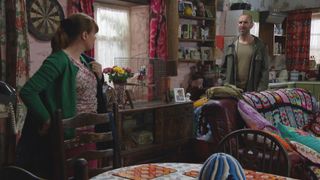 Lydia's fed up with her husband's Sam's attitude towards her old pal Craig.
Emmerdale's Lydia is fed up with Sam Dingle in Friday's episode
At Wishing Well, there's tension.
The whole setup at the Dingles' home seems to have shifted since Craig, Lydia's old pal from her days living in care, cropped up in their lives.
It's been an emotional rollercoaster for Lydia who's had to open the door on her very painful past as Craig started asking questions about why she vanished on him.
The former best pals have since bonded over the secret that Lydia kept from him, that she got pregnant after they slept together and gave birth to their son, Toby, who was stillborn.
But while Lydia's felt some kind of closure since she got the chance to tell Craig what happened all those years ago, her husband Sam has not taken well to the shake up.
To Sam, Craig represents everything he is not: a successful businessman with a flash car and nice clothes. Unable to get past his insecurities and unsure about this man who's a relative stranger, Sam just hasn't taken well to Craig while his son Samson thinks he's the best thing since sliced bread.
So when Sam makes Craig feel uncomfortable yet again, Lydia's had enough and fumes at her husband.
Is Craig driving a wedge between the usually unruffled Dingle couple?
There's trouble over at the Hide, too.
As Suni starts work in the kitchen having been taken on by Victoria, Gabby is furious and reacts badly to the new set up…