Emmerdale
Emmerdale spoilers: Charles Anderson ATTACKS Tom!
Charles Anderson attacks Tom in the Woolpack. 
Emmerdale's Charles Anderson assaults Tom King in a shocking turn of events in Thursday's episode (ITV, 7.30pm, see our TV Guide for full listings).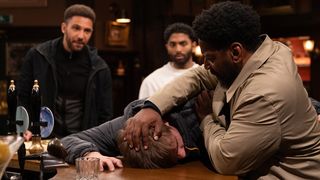 Charles Anderson attacks Tom in the Woolpack.
Struggling with the weight of the secret, Manpreet Sharma leaves her boyfriend Charles an urgent voicemail, pleading for him to come home.
The vicar returns, unable to run any longer and tries to make a number of attempts to confess the truth to his oblivious mum Claudette Anderson.
However, when Claudette sings Charles' praise, he can't bring himself to tell her and backs out.
At the Woolpack, a concerned Tom watches Charles drink himself into oblivion as his guilt consumes him. After trying to sympathise with Charles, Tom only infuriates him more.
The usually calm Charles explodes and Tom retorts, but the vicar is unable to contain his anger and pins him to the bar in front of horrified punters. Charles' rage only subsides when his family interrupt the shocking fight and he releases Tom.
Charles flees from his worried family and when Manpreet catches up to, she begs him to tell the truth. Will she be able to make Charles see sense and finally come clean?
Meanwhile, Chas Dingle and her ex-husband Paddy Kirk put on a united front as they explain Paddy and Mandy Dingle's relationship to their young daughter Eve.
However, Chas struggles to hide her jealousy at her former hubby's new romance.
Elsewhere, Tom's excitement is shattered when his girlfriend Belle Dingle reveals that she can't move in with him yet.