Grey
A Look At Grey's Anatomy Star Kevin McKidd's Real-Life Relationship With Danielle Savre
Kevin McKidd has found love after his divorce! In July 2022, the "Grey's Anatomy" actor announced his split from his then-wife, Arielle Goldrath. "I don't often share my personal life on social media, but today there is something I do want to share with you. A few months ago, Arielle and I decided to end the marriage portion of our relationship," he stated in a now-deleted Instagram post (via People). He went on to praise Goldrath as an "incredible mother" to their two kids, Aiden and Nava. "Arielle and I will always be there for one another. I hope everyone could be this blessed: to raise their kids with one of your very best friends," McKidd concluded.
McKidd and Goldrath's divorce was finalized in June 2023, and the actor has since been linked with his fellow Shondaland star, Danielle Savre. The two first shared the small screen in 2020 in an episode of "Grey's Anatomy" and would go on to appear together in several other episodes on the show, as well as in "Station 19." It seems the two actors have hit it off, and while they haven't officially announced their relationship, McKidd and Savre are clearly smitten with each other.
Kevin McKidd and Danielle Savre were first spotted together in Italy
News of Kevin McKidd and Danielle Savre's relationship broke in June when they were seen canoodling with each other in Lake Como, Italy. As reported by E! News, the two actors enjoyed a day on the water and couldn't help sneaking in some smooches. In a photo, a bikini-clad Savre had one arm locked around McKidd's neck while they shared a passionate kiss on the dock of Lake Como. The new couple also remained touchy-feely as they walked around the town of Bellagio.
A few weeks later, McKidd and Savre shared a joint Instagram post of a collage of videos taken on a trip to Zambia in South Africa. "A million thank you's to everyone @chiawasafaris & @howelltalentrelations for the trip of a LIFETIME! Your hospitality, knowledge, heart and humor made our trip to the Lower Zambezi beyond our expectations. Our adventure was breathtaking, awe inspiring, humbling and uplifting, all because of you guys," they captioned. In one of the clips, he and Savre share a quick kiss on the water as they take in the sights. In another video, McKidd is seen lying on a bed with the words "Happy 50th Birthday Kevin" spelled out with leaves. He and Savre, whom he hashtagged as his "travel partner," look happy exploring South Africa. The trip didn't end there, however, and the two continued to vacation together in another country.
Danielle Savre bonded with Kevin McKidd's son over golf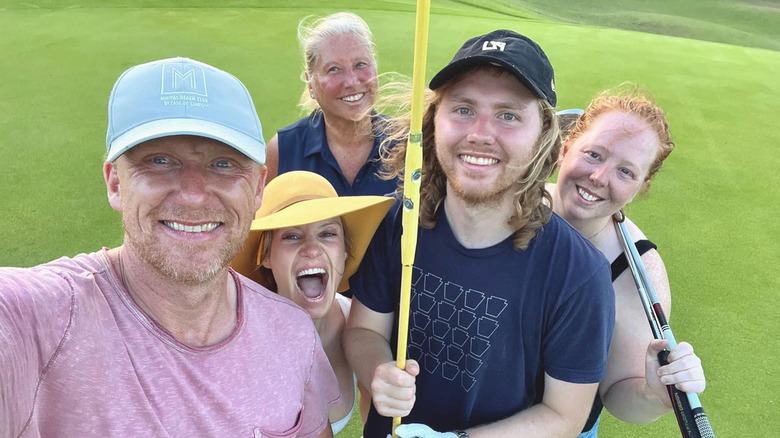 Kevin McKidd and Danielle Savre are taking their love around the world. On August 4, the "Station 19" actor shared a pic of her and McKidd with their television and real-life family. The two posed on a golf course in the Dominican Republic with behind-the-scene members of "Grey's Anatomy" and "Station 19," along with McKidd's adult son, Joseph. In a series of emojis, Savre referenced Joseph getting a birdie, which the group celebrated with a grinning selfie.
McKidd shares his son Joseph and his daughter Iona with his first wife, Jane Parker, whom he divorced in 2017. He also shares his young children, Aiden and Nava, with his now ex-wife, Arielle Goldrath. While Savre does not have kids of her own as of yet, she gave the gift of a lifetime to help her best friend, Chris Ogden-Harkins, and his husband, Jake Ogden-Harkins, start a family. "I donated my eggs to Chris and Jake, and now their surrogate is pregnant and will be having a baby this November. This family is about to get bigger," she told ABC in 2021. In April, Savre shared a pic of the Ogden-Harkins' daughter Aspen Grey sitting next to a labradoodle and wrote, "These two have my heart forever." Like McKidd, Savre seems to have a love for kids, as well as traveling the world. Although their relationship is still new and only time will tell how far the couple will go, it's already looking like a strong union.